"There'll be no escape for the Princess this time."
Welcome to the official Web site for Run Leia Run, the award-winning Star Wars fan film from Guy in his Basement Productions.
Run Leia Run is an animated parody written and directed by Adam Bertocci that crosses the Star Wars saga with Lola rennt (known to English-speakers as Run Lola Run). It is about 15 minutes 30 seconds long. It was created with Macromedia Flash.
Run Leia Run premiered on January 22, 2003 at Northwestern University in the Annie May Swift Auditorium. It is currently hosted by TFN Fan Films.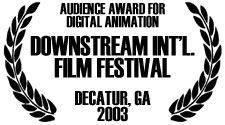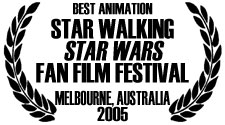 NEWS - July 2017
Since Adobe is killing Flash, I'm doing what I need to to preserve this film for the future in non-vector form… and taking the opportunity to do a few tweaks. There will be a RLR Special Edition in time for The Last Jedi!
THEFORCE.NET FAN FILMS presents • a creation of GUY IN HIS BASEMENT PRODUCTIONS • a film by ADAM BERTOCCI
RUN LEIA RUN
starring RACHEL J. CHADDERDON • WILL ABE BUTLER
co-starring BEN FLETCHER • DARREN SCALES • STEVE GENSLER • ADAM BERTOCCI
score composed by BRIAN SADLER • associate producer DANIEL VINEY
based on "STAR WARS" by GEORGE LUCAS and "LOLA RENNT" by TOM TYKWER
written and directed by ADAM BERTOCCI