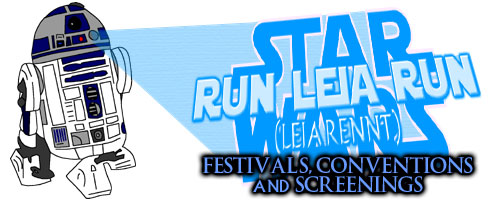 EXPANDED LISTING
Fourth Annual Westchester County Film Festival — New Rochelle, NY — March 11, 2003.
• View bits and pieces of the screening schedule here.
Fan film festival, part of the I-CON Independent Film Festival at I-CON 22, "the Northeast's largest convention of science fiction, fact and fantasy" — Stony Brook, NY — March 29, 2003.
• View the Web site's screening schedule here.
Northwestern University's Flicker Film Festival — Evanston, IL — May 4, 2003.
• View an excerpt from the screening schedule here.
Gen Con Fan Films Track — Indianapolis, IN — July 24/25/27, 2003.
Imperial Quartermaster 2 Fan Films Track — Raleigh, NC — August 9-10, 2003.
DragonCon at the Matters of the Force event center — Atlanta, GA — August 29, 2003.
Downstream International Film Festival — Decatur, GA — September 16/19, 2003.
• Winner, Audience Award for Digital Animation.
• View bits and pieces of the program here and schedule here.
UberCon Independent Film Festival — Secaucus, NJ — October 17, 2003.
Sci-Fi-London fan films event — London, United Kingdom — January 30/31/February 1, 2004.
Filmcon 4 — Madison, WI — February 20-22, 2004.
ValleyCon at the Fargo Fantastic Film Festival — Fargo, ND — April 23-25, 2004.
Balticon 38 — Baltimore, MD — May 30, 2004.
ConCarolinas — Charlotte, NC — June 5, 2004.
3rd Star Walking Star Wars Fan Film Festival — Melbourne, Australia — May 21, 2005.
• Winner, Best Animation.
CONvergence — Bloomington, MN — July 8, 2006.
Radcon — Pasco, WA — February 17, 2007.
---
SIMPLE LISTING
Westchester County Film Festival
I-CON Independent Film Festival
Flicker Film Festival
Gen Con
Imperial Quartermaster
DragonCon
Downstream International Film Festival
UberCon Independent Film Festival
Sci-Fi-London
Filmcon
Balticon
ConCarolinas
Star Walking
CONvergence
Radcon